Why Values Are Important is because our values inform our Thoughts, Words, and Actions.
At Seattle Life Coach Training we teach that our values are important because they help us to grow and develop. They help us to create the future we want to experience. Every individual is involved in making hundreds of decisions every day. The decisions we make are a reflection of our values and beliefs, and they are always directed towards a specific purpose. That purpose is the satisfaction of our individual or collective needs.
When we use our values to make decisions, we make a deliberate choice to focus on what is important to us. When values are shared, they build internal cohesion in a group, partnership or family system.
There are 4 categories of Values:
Individual values
Individual values reflect how you show up in your life and your specific needs-the principles you live by and what you consider important for your self-interest. Individual values include enthusiasm, creativity, humility and personal fulfillment.
Relationship values
Relationship values reflect how you relate to other people in your life, be they friends, family or colleagues in your organization. Relationship values include openness, trust, generosity and caring.
Organizational values
Organizational values reflect how your organization shows up and operates in the world. Organizational values include financial, growth, teamwork, productivity and strategic alliances.
Societal values
Societal values reflect how you or your organization relates to society. Societal values include: future generations, environmental awareness, ecology and sustainability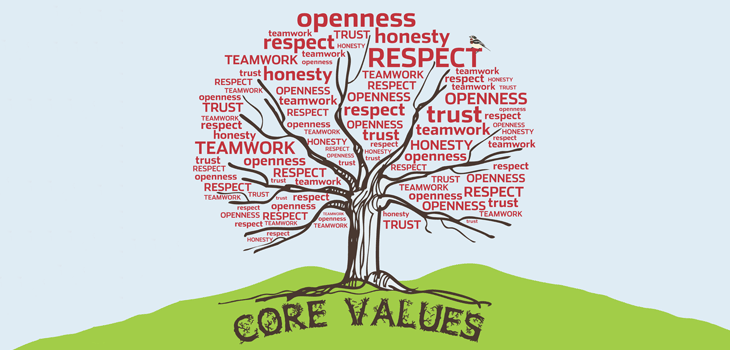 Our invitation is for you to look at the values you need to uplevel in your life. Pick a value that needs attention and then take one step forward by making a change that could propel you into a more aligned life. This change must stretch you but not break you.
Give something up for a minimum of 5 days. At the end of the 5 day period ask yourself, Am I now more aligned and do I feel better? The goal is to align yourself in becoming your greatest and highest self. The change you made might become a "new normal" and create a healthier version of yourself forever.
To evolve and grow all humans must be willing to take a look at their life and the values they are living by. If your life is falling to pieces – Stop – Breathe – Pause – Reflect – Make a Change. Taking these frequent moments and reflecting on your life and the values which are not present could be the best gift you could give to yourself and others.
If this blog struck a chord of truth within, you might want to seek out the assistance of a trained and certified SLCT Life Coach. Our coaches at Seattle Life Coach Training can support you in discovering your personal life values and coach you in creating a plan of action to achieve the life you desire.